Election 2016: Glove Recommendations for Presidential Candidates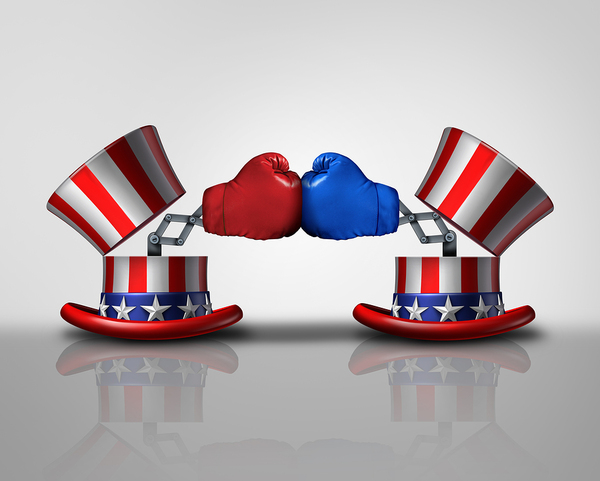 The 2016 American presidential election certainly hasn't been boring! The Democratic and Republican candidates haven't made their way to a boxing ring, but nothing would surprise their constituencies at this point.
Tomorrow, one of these candidates will be the President of the United States for the next four years. To make sure that campaign trail history doesn't repeat itself during the presidency, Superior Glove has some glove recommendations:
Touchscreen-Compatible for Better Email Management
Sometimes those pesky emails get totally out of hand and a slip of the hand can lead to a media frenzy. Touchscreen-compatible gloves are comfortable enough to wear year round and the specially formulated palm coatings help ensure everything on a mobile device is where it should be with no accidents or slip-ups.
Superior Glove offers several different styles of touchscreen-compatible gloves including cut and puncture resistant options. Now the candidates can use their mobile device, while protecting themselves against the sharp and pointy comments of an opponent.
(We also have a glove laundering guide to handle messy cleanups.)
Chemical-Resistant Gloves for Toxic Commentary
This election season held some of the most sensational commentary of any campaign in modern American history. Imagine how nice it would be to protect against the risk of toxic splash back in a pair of our chemical-resistant gloves.
Chemstop™ keeps hands of any size safe and protected. We offer flocked styles, economy styles and basic neoprene in black. For extra-serious situations, we also have durable, double-dipped PVC gloves. Pair with protective sleeves to keep expensive suits fresh and clean.
High Visibility Gloves for the Campaign Trail
Campaigning takes a lot of effort and planning and packed auditoriums make it hard to spot the candidate on stage. Hi-viz gloves are like a beacon to wandering, undecided voters.
A glove like our TenActiv™ Anti-Impact Hi-Viz Glove with Micropore Nitrile Grip pairs hi-viz backings with a micropore nitrile palm coating for excellent grip in slippery situations. This glove also comes with anti-impact thermoplastic rubber on the back to help prevent bruised egos when polls take a hit.
Cold Weather Gloves for Intense Tweet Storms
Isn't it funny how so many storms seem to roll in after midnight these days? When campaign managers and pundits have settled into their beds and presidential candidates are left to their own mobile devices, 3 a.m. tweet storms can rage like a furious and chilly Nor'easter.
But Superior Glove comes to the candidates' rescue again. Touchscreen compatibility doesn't help if fingers are too numb to touch the display. Our Emerald CX® Winter Gloves with crinkle-grip PVC palm coating makes typing out 140 characters a breeze. Even when it's frigid, these gloves stay flexible.
Now, maybe you're thinking politicians and hand protection don't go together, but we think it's time to flip-flop on that issue. If the 2016 American presidential election season is any indication, four years from now, a new batch of candidates can gear up early and ward off some of the commentary jabs and opponent frostbite.
(Interested in a FREE sample of these gloves? Click the "Request a Sample" button!)
You might also like: